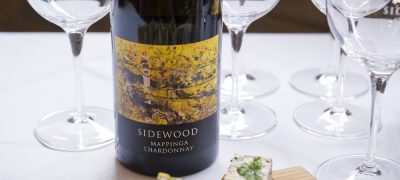 30 May

Sidewood Seeing Double

Sidewood is pleased to announce both its 2015 Mappinga Shiraz and 2016 Mappinga Chardonnay have taken out Gold Medals at the UK based, Sommelier Wine Awards in London this week.

Sidewood's 2015 Mappinga Shiraz won Gold for the New World: Shiraz/Syrah, Grenache, Mourvedre and Rhone Blends, Australia while the 2016 Mappinga Chardonnay won Gold or New World: Chardonnay, Australia.

Sidewood Owner, Owen Inglis was extremely pleased with the double win,

"It's the first time in the history of the international wine show that an Adelaide Hills winery has won two gold medals in both the Chardonnay and Shiraz categories in the same year,

"Winning two golds in different categories is reflective of our Head Winemaker, Darryl Catlin and the entire Sidewood winemaking team's dedication to producing quality wines first and foremost," He said.

The Sommelier Wine Awards is a wine competition with a difference. It is Britain's only on-trade wine competition, it focuses entirely on wines aimed at the on-trade.

Since the competition began in 2007 it has grown to become the first point of reference for the UK's on-trade wine buyers, as well as the key competition for wines trying to increase their presence in hotels, pubs, bars and restaurants across the world.

The SWA judges all serve or buy wine for their venues in the on-trade or are leading consultants. Wines with general distribution in the high street are not permitted to enter, with the exception of sparkling and fortified wines, or merchants' online-exclusive wines*. 

Read the reviews from the wine shows below:
2015 MAPPINGA SHIRAZ
GOLD MEDIAL | New World: Shiraz /Syrah, Grenache, Mourvèdre & Rhône Blends, Australia
'Seductive and luscious, a modern and age-worthy, elegant style,' began an impressed Sumita Sarma of Sumilier as this earned itself a well-deserved Gold, finding plenty going on: 'Ripe plums, forest floor and black fruit with blueberry, mint, vanilla, eucalyptus, ripe but fine-grained tannins, impressive acidity and balance.' Typing Room's Alex Pitt found it 'very elegant, with plenty of complexity and freshness, with salty, peppered-salami nuances as well as some dried herbs'.
See the other awards for the 2015 Mappinga Shiraz below:
DOUBLE GOLD | 2017 SAN FRANCISCO INTERNATIONAL WINE COMPETITION
GREAT GOLD | 2017 INTERNATIONAL WINE AWARDS SPAIN
GOLD | 2018 SYDNEY INTERNATIONAL WINE COMPETITION
GOLD | 2017 AUSTRALIAN WINE SHOWCASE MAGAZINE
GOLD | 2017 NATIONAL COOL CLIMATE WINE SHOW
GOLD | 2017 MUNDUS VINI GERMANY
GOLD | 2017 CATAVINUM WORLD WINE AND SPIRITS COMPETITION
GOLD 5 STARS | 2018 WINESTATE MAGAZINE 2018
2016 MAPPINGA CHARDONNAY
GOLD MEDIAL | New World: Shiraz /Syrah, Grenache, Mourvèdre & Rhône Blends, Australia
With its 'chalky, floral, nutty' aromas, this worthy Gold medal recipient was 'elegant, with a charming delivery, freshness and drive', began Chris Delalonde MS of Bleeding Heart Group, while Stefano Barbarino of Chez Bruce Restaurant admired its 'beautiful nose that's quite complex, buttery and ripe with apple and pear fruit', further describing 'a lovely creamy texture on the palate that is very well complemented by freshness, and a good option for cod or sea bass'.
See the other awards for the 2016 Mappinga Chardonnay below:
GOLD | 2017 ROYAL ADELAIDE WINE SHOW
GOLD | 2018 CATAVINUM WORLD WINE COMPETITION
GOLD | 2017 NEW WORLD WINE AWARDS NEW ZEALAND
GOLD | 2017 INTERNATIONAL WINE AWARDS SPAIN
* https://www.sommelierwineawards.com/