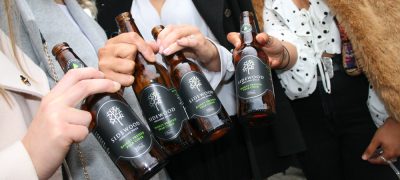 12 Jun

Sidewood brings home gold from the US

Sidewood's award-winning Pear Cider has been the only Australian producer to win Gold at the 13TH Annual Great Lakes International Cider and Perry Competition (GLINTCAP). With over 1,200 entries from 10+ different countries, the US-based event is fast establishing itself as the largest cider competition in the world.

Established in 2005 as a way for Cider producers to receive feedback on their products, GLINTCAP held in downtown Grand Rapids, Michigan is a way for small, medium and large producers to benchmark their Apple and Pear ciders against the best on the planet.

The panel of over 90 judges was guided through which notes should and shouldn't be found in the Ciders the night before the competition commenced for continuity across the judging panel during the evaluation period. The Ciders were then evaluated by the judges in a series of blind flights which ensured the judges were unbiasedly critiquing each entrant on its own merit.

Sidewood's Apple Cider notably also picked up Bronze at the award show. For the full list of winners from the awards, please click here.

This is the second major international award for Sidewood's Pear Cider in the past 12 months after taking out the title of World's Best Pear Cider at the World Cider Awards in London in late September of 2017.

Produced by Head Winemaker, Darryl Catlin and Cidermaker, Michael Redman, the fruit used for Sidewood's hand-crafted premium ciders is sourced only from orchards in the cool climate region of the Adelaide Hills. Over a six-week process, fruit is carefully selected for flavour and acidity before being crushed and cool fermented at Sidewood's Cidery in Nairne within hours of picking to retain the fruits natural flavours and acidity.

With no added sugar, no gluten, 100% vegan and South Australian family owned and operated; Sidewood can safely claim the mantle of Australia's Best Pear cider.