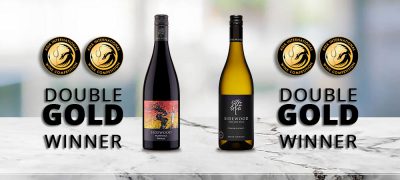 03 Sep

Double the Double Gold!

Sidewood's 2017 Estate Chardonnay and 2016 Mappinga Shiraz have both won Double Gold medals at the 2018 Asian International Wine Challenge (AIWC) in Hong Kong this week.

The annual Asia International Wine Competition is part of the International Competition Series which was founded in 2011 judging the best in reds, whites, dessert wines, sparkling and more from around the world.

It has been a successful award season for Sidewood as we continue to dominate shows domestically and overseas (and no we aren't talking Oscars or Golden Globes!). Whilst both the 2016 Mappinga Shiraz and 2017 Estate Chardonnay are new releases, they already boast having two Gold Medals each and now the AIWC's Double Gold medals respectively.

The Asian International Wine Competition prides itself on its Wine-trade only blind judging panel and medals are awarded on a merit basis by a majority vote. Then the judging panel unanimously decides the winners of Double Gold medals, which is the highest award level at the show by variety and style.
2017 Sidewood Estate Chardonnay
How it's made:
Head Winemaker, Darryl Catlin carefully selects the best parcels of fruit according to ripeness from the various blocks of Chardonnay made up of three French (Burgundian) Chardonnay clones. Each clone has its own flavour spectrum with some clones are picked earlier to obtain citrus characters and the rest picked later to obtain melon and grapefruit flavours. Once picked, the bunches are sorted and gently pressed prior to wild ferment and maturation in 100% French oak, 25% new for 10 months.
What it tastes like:
Sidewood's Estate Chardonnay displays delicate aromas of citrus blossom and herbal spice. The palate showcases an opulent, mouth-filling mid-palate of honeydew melon, white peach, and grapefruit.
What to pair it with:
This luscious, complex wine has wonderful acidity balanced by an incredible softness and is great to savour on its own or enjoy as an accompaniment to chargrilled salmon.
Cellaring:
Drinking beautifully now but will continue to evolve with careful cellaring.
2016 Sidewood Mappinga Shiraz 
How it's made:
Only made in exceptional years, Head Winemaker, Darryl Catlin spends time carefully selecting the best parcels of fruit for Sidewood's Mappinga Shiraz. Selected bunches are carefully picked in the early morning to keep the fruit cool. Berries are sorted at the winery, 70 -75% are gently pressed and 25-30% of the fruit is added whole into open-topped fermentation tanks for a partial carbonic maceration. Careful attention is spent on temperature control. Once ferment is completed the wine is then matured in 35% new and older French Oak barriques.
What it tastes like:
Vibrant purple, crimson in colour with a glorious nose of red forest berries. The Mappinga Shiraz is blushing with the flavour of dark plum, blackberries, and mulberries, with touches of white pepper and allspice. While showing an abundance of fruit flavours, the wine remains brooding with graceful elegance and poise, notes of dark chocolate and liquorice come forward during its luscious finish.
What to pair with it:
Well matched to heavier weight dishes – veal and beef based, the Mappinga Shiraz is also perfect with hard cheeses and aged cheddar.
Cellaring:
This wine is only going to get better with age and will benefit from careful cellaring for many years to come.