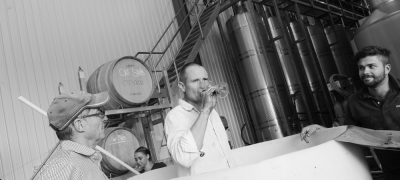 16 Aug

5 mins with the Maker: Producing the perfect Pinot

In celebration of Pinot Noir Day, we caught up with our Head Winemaker, Darryl Catlin to give you insight into how our award-winning Pinot Noir gets from our vines to your glass.

Sidewood's Pinot Noir is a sell-out year after year, what is this vintage looking like for Pinot?

The upcoming vintage is looking reasonably strong.

In some varieties, we're still looking at the lighter colour which is due to vine development and adjusting to vine age and grafts which are stabilising quickly. There was good colour in MV6 and Abel clones and good, strong Pinot flavours.

We typically begin to look at Pinot in July and August and assess what needs to be racked and what doesn't, before slowly getting them off their yeast lees then look at blending them in October, November for bottling in December.

What would you say is the most important part of Pinot Noir production?

Vineyard nutrition is the most important part of vintage, we taste a lot during vintage and from there we make decisions about what we do with the grapes.

There are now four Pinot Noir's in the Sidewood range, what's the point of difference in the winemaking process to achieve those vastly different yet balanced flavour profiles of each?

777 we have found typically is a bit more whole-bunch, somewhere between 20-30% whole bunch is what we look at to get that funkier type of style but is dependent on the year, for example, 2018 had more ripeness in stork development than 2017.

The Oberlene clone in our Estate Pinot responds really well to whole-bunch, I typically use parcels of 100% whole bunch then a wild ferment.

Abel responds better to being de-stemmed, we do a little bit of whole-bunch but that's mostly de-stemmed because I've noticed it lacks a little bit of vibrancy when it's not.

Typically, once fermentation has finished we sometimes foot stomp to extend the fermentation.

With our MV6 Pinot clone, depending on the vintage, we sometimes play with close maceration to influence its tannin structure.

What clone is picked first?

Typically our 777 is the first to come off the vines, Abel second then Oberlene is probably the last we pick because of the way it develops which takes a little bit more work in the vineyard.

What's the process when the fruit heads to the winery? 

After it finishes primary ferment, the wine naturally goes through malolactic fermentation to soften the acid profile.

Depending on the vintage, they're left in the barrel from anywhere between 6 and 12 months. In that period we monitor the wine closely.

After time in barre,l we asses each parcel individually to determine if there are any outstanding blends. From this process, we are able to make decisions on what the blend will ultimately be.

What are your future plans with Sidewood Pinot Noir?

We'll experiment more with co-fermentation as the vineyard continues to develop and we understand the vineyard more.